 Annual Fund
Your Cyclone Club Membership Makes An Impact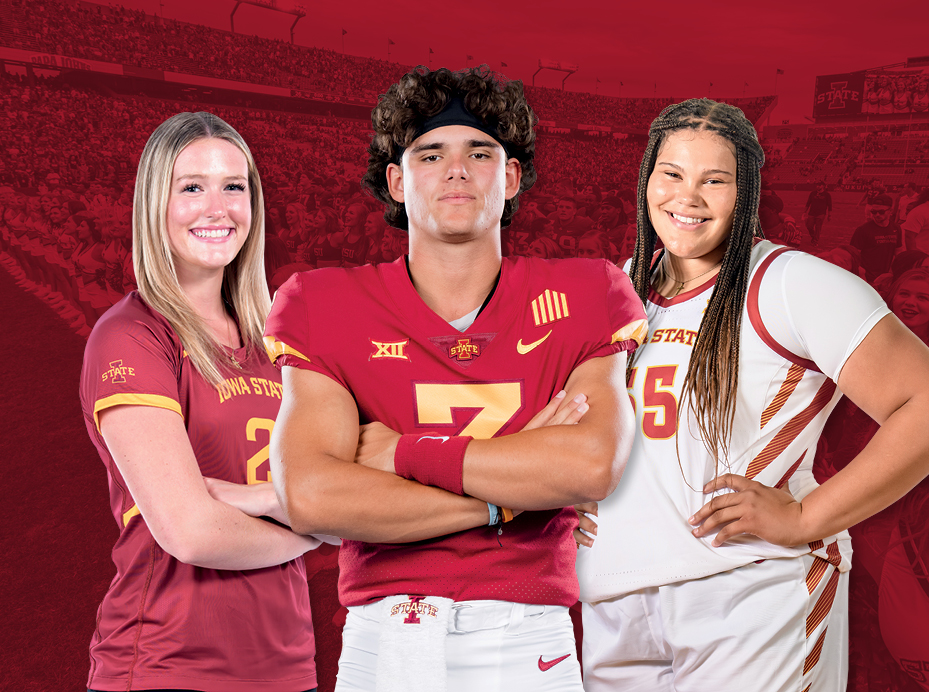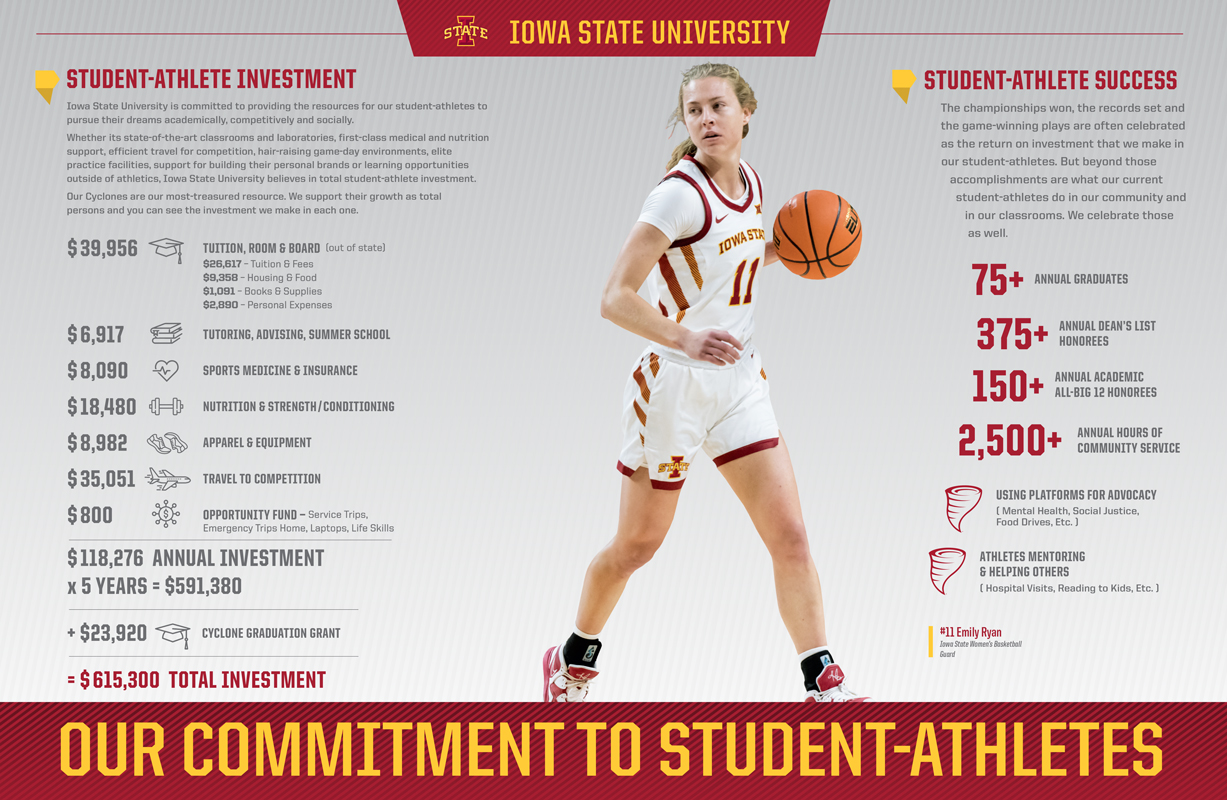 The Athletics Department receives no state or University funds, so gifts of all sizes to the Cyclone Club directly impact the lives of over 450 student-athletes at Iowa State. Take pride in knowing that a membership in the Cyclone Club plays a significant role in the daily success of these student-athletes on the field and in the classroom.
It's with your membership that Iowa State Athletics can enable student-athletes to succeed in competition and in the classroom, stay competitive by attracting and retaining the best coaches and staff, and invest in improvements, including state-of-the-art facilities. Show Cyclone Nation your loyalty by signing up – or increasing your contribution – to be part of the Heart of the Nation today.
To make a gift, visit www.cycloneclub.org or call 515-294-5022.
Your gift to the Cyclone Club helps to provide the resources for our student-athletes to pursue their dreams academically, competitively, and socially. Our student-athletes' overall experience at Iowa State would not be possible without the financial support from Cyclone Club members each year.
Cyclone Club donations are crucial to maintaining a standard of excellence for over 450 student-athletes.
To make a gift, visit www.cycloneclub.org or call 515-294-5022.
Electronic Membership Card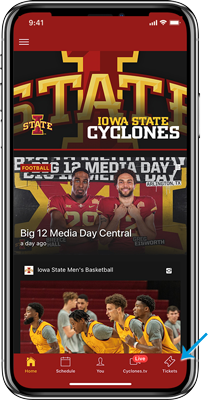 Step 1
Open the ISU CYCLONE app on your device. Tap the Tickets icon in the lower right hand corner.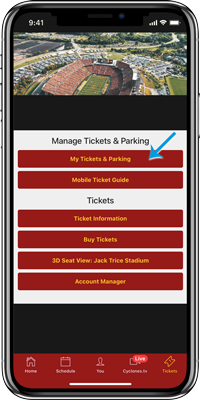 Step 2
Tap MY TICKETS & PARKING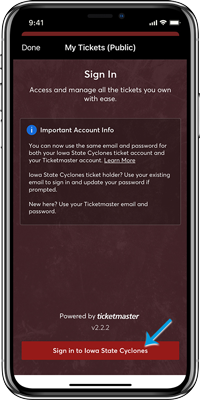 Step 3
Tap Sign In to Iowa State Cyclones.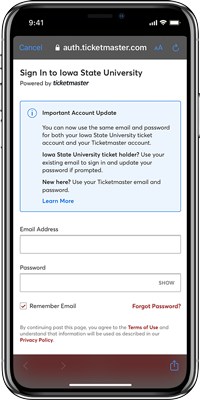 Step 4
Login using the email and password associated with your account. *If you cannot remember your password tap "Forgot password" to reset.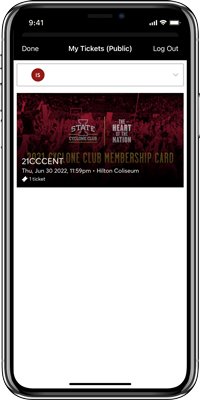 Step 5
Tap on the Cyclone Club membership card to view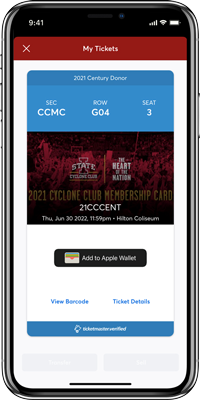 Step 6
Tap ADD TO APPLE WALLET.
*Screenshots are shown using Apple Wallet on an iPhone. Android users can follow the same steps to add their electronic membership card to Google Pay.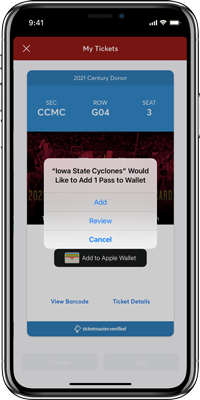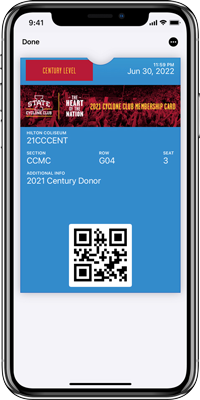 Step 8
Your membership card is now in your Apple Wallet. Tap DONE OR if you wish to remove your membership card tap the menu in the upper right corner and tap REMOVE PASS.
| | |
| --- | --- |
| January 2023 | January 1 — Cyclone Club drive year begins |
| February 2023 | Cyclone Club donation & season football ticket/parking renewals begin |
| March 2023 | Cyclone Club donation & season football ticket/parking renewal deadline |
| April 2023 | Football seating selection process begins |
| June 2023 | Football parking selection process begins |
| July 2023 | Basketball season ticket renewals begin |
| August 2023 | Basketball season ticket renewal deadline & seating allocations begin |
| December 2023 | December 31 — Cyclone Club drive year ends |
All important dates are subject to change
NCAA Compliance
Iowa State is responsible for the actions of its boosters. If a booster violates an NCAA, Big 12, or ISU rule, the University may be subject to penalties. In addition, student-athletes or prospects may lose their eligibility for intercollegiate competition. Further, a booster found to have intentionally violated NCAA, Big 12, or ISU rules may be disassociated from Iowa State's Athletics program, resulting in a loss of all benefits and privileges offered by the Department of Athletics.
ARE YOU A BOOSTER?
If you are reading this, chances are, you are a booster!
A booster, or what the NCAA refers to as a "representative of the institution's athletics interests," is an individual, independent agency, corporate entity, or other organization that has:
Been a Cyclone Club Member
Donated money to the athletics department
Been a season ticketholder
Assisted in the recruitment of a prospect
Been involved in promoting ISU Athletics
Have assisted in providing benefits to student-athletes or their families
Once identified as a booster, you retain that identity.
ONCE A BOOSTER, ALWAYS A BOOSTER!
WHAT'S A PROSPECTIVE STUDENT-ATHLETE?
A prospective student-athlete (prospect) is a student who has started classes for the ninth grade.
RECRUITING – LEAVE IT TO THE COACHES!
As a booster, you may not:
Make in-person, on- or off-campus contacts with a recruit or their parents, coaches, or relatives
Initiate telephone calls or have electronic recruiting communications (e.g. email, Twitter, Facebook, etc.) with prospects or their relatives or friends
Assist with the actual evaluation of talent
Purchase a ticket from a student-athlete
YOU MAY
View a recruit's game on your own initiative
Continue to have contact with an established family friend or neighbor who is a prospect
EXTRA BENEFITS
Do not provide any benefit to a student-athlete that is not available to the general student-body, including (but not limited to):
Cash/gifts
Raise money for student-athletes (including former student-athletes) through crowdsourcing websites regardless of when money would be distributed
Discounted services (meals, drinks, clothing, etc.)
Entertainment
Free or reduced cost of housing
Co-signing a loan
As alumni, fans, and friends of Iowa State Athletics, you are a major part of the athletics department's success. To help ISU with its tradition of success with excellence and integrity, take the time to understand the rules outlined above. If you have any questions concerning NCAA or Big 12 rules please do not hesitate to contact the Athletics Compliance Office. Please remember to always ask before you act!
IOWA STATE ATHLETICS COMPLIANCE OFFICE