 Donor Recognition
Annual Fund Honor Roll
Each year, financial support from faithful Cyclone Club members helps our student-athletes achieve peak performance in the classroom and on the field. Cyclone Club donations fund the future success of the Iowa State athletics program, which includes: recruiting the brightest and most talented student-athletes, attracting and retaining the best coaches and staff and investing in the improvement and construction of state-of-the-art facilities. These initiatives require financial investment from every member of Cyclone Nation.
Courtesy Car Dealers
The following car dealers support the Iowa State Athletics Department. The next time you buy, lease or rent a car, please consider supporting a member of the Iowa State Athletics Courtesy Car program.
Albia Motor Company
114 N Clinton St., Albia
---
Ames Ford Lincoln*
123 Airport Rd., Ames
---
Carriker Auto Outlet
1209 A Ave. West, Oskaloosa
---
---
Clemons Inc. of Ottumwa
2839 N. Court Road, Ottumwa
---
Creston Automotive*
410 W. Adams St., Creston
---
Dale Howard Auto Center
600 Brooks Road, Iowa Falls
---
---
*Donates more than one car
Clyde Williams Society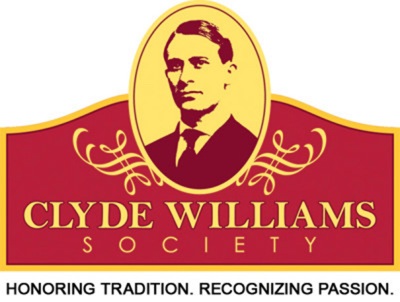 Honoring a Great Name in Cyclone History
Clyde Williams left a lasting mark on Iowa State Athletics. The innovative football coach became one of the first coaches to implement the overhand pass and punt. He tallied a 33-14-2 mark as the Cyclones head football coach from 1907–12. Williams started the Iowa State men's basketball program in 1907 and coached the team until 1911. He also served as Iowa State's Director of Athletics from 1914–19.
Williams — a Shelby, Iowa native, — was one of six men to sign the bank note for the construction of State Field in 1914. After Williams' death in 1938, State Field was renamed in his honor, Clyde Williams Field, before the Iowa State vs. Kansas homecoming game that season and served as home of Cyclone football until 1974. He was inducted into the Iowa State Athletics Hall of Fame in the inaugural class of 1997.
Established in 2011, the Clyde Williams Society is the Iowa State Athletics Department's all-time cumulative giving program that recognizes the Department's most generous and loyal supporters.
Cumulative giving includes:
Annual gifts for membership in the Cyclone Club
The purchase of a suite or Club seat(s)
Gifts and pledges for facility capital campaigns
Endowed gifts for scholarships and other needs
Bequests and planned gifts
Each cumulative giving level within the society provides unique recognition opportunities to members of the Society:
Legacy Level: $1 million and above
Investor Level: $500,000 - $999,999
Founder Level: $250,000 - $499,999
Executive Level: $100,000 - $249,999
Clyde Williams Society Members
* Advanced a level in 2019
** New members in 2019
Clyde Williams Society as of August 1, 2019.
Cy's Favorite Alum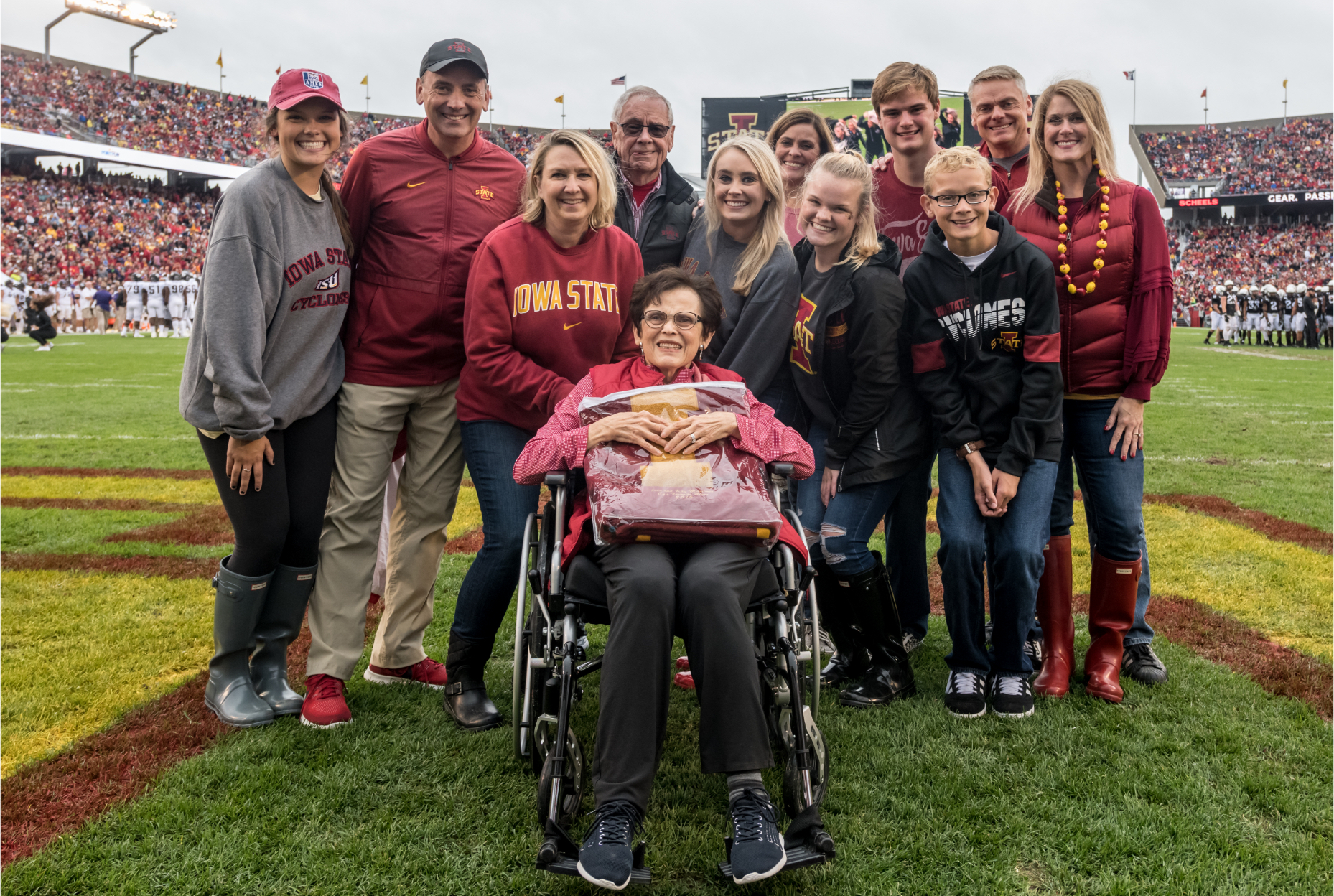 John and Kay Mortimer and family are honored as Cy's Favorite Alum at the Iowa State vs. TCU Football game on October 5, 2019.
Although thousands of fans and friends of the Iowa State Athletics Department demonstrate loyal support each year, a deserving individual(s) is recognized each year as Cy's Favorite Alum. The tradition started in 1955, and each year a deserving graduate, supporter or contributor whose accomplishments and loyalty stand out above the rest receives this special and significant recognition.
Below are the past honorees:
2019:

John & Kay Mortimer

2018:

Julie Larson

2017:

Don & Yvonne Greiman

2016:

Jon & Julie Schaben

2015:

Gene Meyer

2014:

Fred & Kay Lande

2013:

Gary Lynch

2012:

Gary & Janet Thompson

2011:

Greg Geoffroy & Kathy Geoffroy

2010:

Dick & Marijo Marshall

2009:

Richard & Deborah McConnell

2008:

Mike & Karon Lacey

2007:

Bill & Judy Hoefle

2006:

Don Voelker

2005:

Jerry & Nancy Hall

2004:

Cecil & Dorothy Rueter

2003:

Dick & Sandy Horton

2002:

Rod & Connie French

2001:

Dick & Jan Seagrave

2000:

Stewart Burger

1999:

Al & Sara Sorensen

1998:

Barb Houck

1997:

Jack & Dilla Cosgrove

1996:

Erb & Marge Hunziker

1995:

Dr. Jon Fleming

1994:

Rich Severson

1993:

Kathryn Engel

1992:

Mal Schmidt

1991:

Isaiah Harris

1990:

Dr. William Bliss

1989:

Lydia Adams

1988:

Bernard Simmons

1987:

Robert Eddy

1986:

Richard Grant

1985:

Robert Parks

1984:

Dorothy Erskine

1983:

Ralph Engel

1982:

Raymond Engel

1981:

Deane Gunderson

1980:

Walter Neumann

1979:

Carroll Lane

1978:

Dr. James Hilton

1977:

Herman Holmes

1976:

Robert Wright

1975:

John Ruan

1974:

Dean Knudson

1973:

Sam Hamilton

1972:

Ray Hagle

1971:

Ray Donels

1970:

H.D. Wilson

1969:

Al Hagen

1968:

Lloyd Bock

1967:

George Henningsen

1966:

Don Kaser

1965:

Claire G. Mason

1964:

Ted Aulmann

1963:

Dr. Russell Anthony

1962:

Ralph Olsen

1961:

Leo Fitzpatrick

1960:

H.R. Hilstrom

1959:

Carl Bluedorn

1958:

Harry Hoak & J.D. Armstrong

1957:

Charles Shirey

1956:

Waldo Wegner

1955:

Orville Crowley
---