 Development Staff
DEVELOPMENT STAFF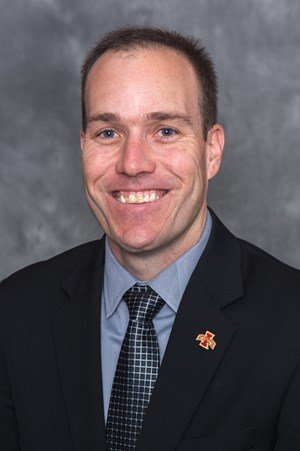 Ryan McGuire
Senior Associate AD for External Operations
---
Ryan McGuire
Senior Associate AD for External Operations
---
Ryan McGuire, who has played a key role in the department's record-setting fund-raising efforts for more than a decade, is in his first year as Iowa State's Senior Associate Athletics Director for External Relations after serving as the department's Associate Athletics Director for Major Gifts since 2016.
In his new role, McGuire has oversight of the Cyclone Club's annual fund, major gifts, premium seating sales and service, ticket operations and special events. He is also the department's liaison to the Cyclone Gridiron Club, ISU Alumni Association and ISU Foundation, and coordinates postseason travel.
Prior to being promoted in 2016, he worked as ISU's Assistant Athletics Director for Major Gifts from 2011-16 and as Assistant Athletics Director for Special Events and Letterwinners Club from 2009-11. McGuire first joined the Cyclone staff as Director of Special Events and Letterwinners Club in 2006.
Before joining the Iowa State staff, he served as Athletics Director, Sport Management Instructor and Assistant Baseball Coach at North Iowa Area Community College (NIACC) from 2001-06. He oversaw and provided leadership to a 13-sport program with a $340,000 annual budget. On his watch, the athletics department created the NIACC Athletics Hall of Fame, developed a corporate partner program to generate new revenues and introduced six new men's and women's sport programs over a four-year period—men's and women's soccer, cross country and track & field.
A 1997 graduate of the University of Northern Iowa, McGuire earned his master's degree in Exercise and Sport Science (Sport Management) from Iowa State in 2000. He began his professional career as Assistant Director of Sports and Operations for the Iowa Games in May 2000 before moving North on I-35 and into the Athletics Director's chair at NIACC a year later.
Ryan and his wife, Mandy, reside in Ames with their children Abby and Tommy.